I don't know about anyone else's family, but we go through food-fan episodes. Over the past couple of weeks we've eaten a lot of stir-fry, miso, and Oriental greens. Sometimes all in the same meal. I'm officially over soy sauce and sesame oil for a little while.
We haven't had time to plan our weekly menus, but we have managed to keep the house stocked with items that, for us, are staples. We're pretty imaginative cooks, for example one night several years ago Jon and I actually found a recipe that used cabbage, brown rice and peanut butter (all on-hand). The bonus was that it was actually pretty darned good.
So, back to the present…we all love Indian food. Most days I'd plan ahead and make all my own sauces, etc., but yesterday was not one of those days. On hand was a jar of Patak's Korma Simmer Sauce, a pound of ground turkey, a small butternut squash and some baby portabello mushrooms. Flash of inspiration…and, voilà, dinner.
Turkey Meatball Korma with Butternut Squash and Mushrooms
For the meatballs, combine the following and form into 1″ balls
1 pound ground turkey
1 large or x-large egg
1 good sized clove of garlic, minced or put through a crusher
1 tablespoon freshly grated ginger
1/4 cup finely minced fresh cilantro
1/3 cup plain bread crumbs (or panko)
salt & pepper
You will also need:
1 small butternut squash, peeled, seeded and sliced down to approx 3/4″ thick half-moon slices  (you could substitute with yams)
8 oz, give or take, mushrooms (cleaned, stemmed, halved)
1 cup broth, divided (chicken or veggie or use water)
nonstick spray
neutral flavored oil like canola
Heat a large saucepan over medium heat, spray with nonstick, and add oil. In batches, brown the meatballs and set aside temporarily.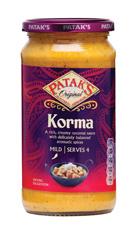 Deglaze the pan with about 1/2 cup of the broth, scraping up the brown bits. Add the squash, mushrooms and meatballs back to the pan. Pour the Korma sauce over the contents of the pan and use the remaining 1/2 cup of broth to get the last bit of goodness out of the jar.
Cover and simmer for about 20 minutes or until the squash is tender but not quite done. Remove the lid and reduce the sauce to thicken it. By that time the squash should be cooked through but not mushy.
Serve over rice, couscous, quinoa or just in a bowl. Garnish with cilantro and grated, unsweetened coconut if desired.