Lazy Woman's Mokume Gane (LWMG)
© 2007-2021, Barbara Forbes-Lyons
A couple of years ago I was fortunate to take Nan Roche's Extruded Mosaic class at the Bead and Button show. Ever since then, I've had a lot of fun using and experimenting with the technique. This tutorial uses Nan's extrusion method in a new way to create the look of mokume gane without the tedious layering of clay, stamping, texturing and shaving off thin layers. It is one of those happy accidents that's too good to keep to myself. I hope you enjoy this tute and please let me know if you make anything using the technique.
Material needed:
Polymer clay in 2-3 colors, conditioned into sheets of the thickest setting of your pasta machine. When selecting colors, choose those that blend together nicely into secondary or tertiary colors (think Skinner Blend).
Work surface of choice.
Extruder gun with 2 or 3 mm round hole disc.
Caulking gun or other assistance device as needed to extrude the clay of your choice.
Round cutter, approximately the same diameter as your extruder gun.
Tissue or other sharp slicing blade.
Baby wipes.
1.Using the round cutter, begin cutting circles of clay out of the various sheets. As needed use a baby wipe to clean the cutter.
2.Create a layered 'plug' of clay by stacking the cut circles. Vary the thickness and arrangement of color. See example below.
3.Load the plug into the extruder gun, reducing it slightly to fit if necessary.
4.Extrude the clay. If using a Kemper gun or Polymer Clay Express Small Shapes insert, extrude 2-4 batches. If using a Makin's Professional Extruder, extrude 2 batches.
5.Using a blade, cut the extruded threads into random lengths.
6.Now comes the fun part…! Toss the extruded threads around on your work surface to really mix up the various lengths. Then pick up all the threads and smush them together into a log, compressing the very least bit just to remove as many air pockets as possible.
7.Roll the log on your work surface to smooth the outside of the log and reduce it slightly.
8.Using the tissue blade, cut into the log to see the wonderful mokume gane like patterns. You can use the log as-is, or combine several into other shapes and sizes.
Slices off this cane make great beads and the gaps in the cane itself let your background colors show through, if desired. For reference purposes, the beads shown below are approximately 12-14 mm.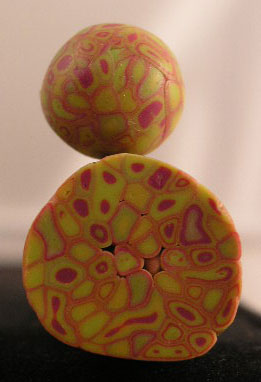 Kato Polyclay in pure Magenta, custom mixed green, and custom mixed golden yellow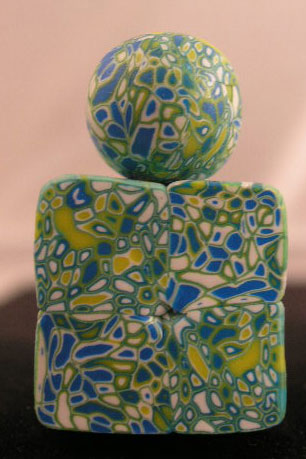 Kato Polyclay in pure yellow, white, and ultra blue.
©2007-2009 Barbara Forbes-Lyons