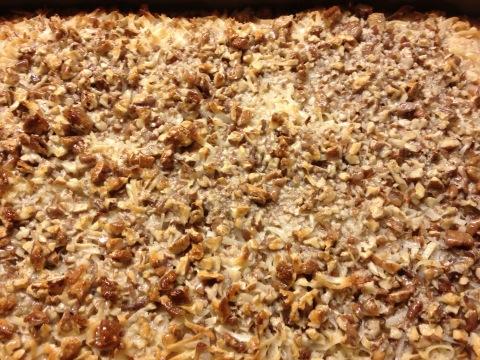 Adapted from the classic magic cookie / 5 layer bars recipe.
Ingredients
1 1/2 cups cornflake crumbs
1/4 light brown sugar
1 stick butter melted (salted or unsalted, your choice)
1 12 oz package butterscotch chips
1 small package flaked coconut
1 1/2 cups chopped pecans
1 can sweetened condensed milk
 Equipment
9×13 cake pan, bottom lined with parchment paper, with overhang. Spray exposed pan lightly with no-stick spray
Measuring cups
Bowl
Rubber spatula/scraper
'Church Key' can opener
Firm plastic (or other non-stick) spatula
Heavy knife or baker's bench knife (my fave tool)
Directions
Preheat oven to 350° F.
In a bowl combine cornflake crumbs and brown sugar, mix thoroughly to evenly distribute sugar. Add melted butter and stir to combine. Pour crumb mixture into the prepared pan and using the rubber spatula, press into an even layer to form the bottom crust.
In order, layer these ingredients evenly over the crust: chips, coconut, chopped pecans.
Open the can of sweetened condensed milk with the opener – one small hole and one big hole. Drizzle the milk over the entire pan of 'stuff'. You should be able to completely cover every bit with the milk.
Bake for 25-30 minutes or until the filling is set and the top is barely golden.
Let cool on a rack for about 15 minutes. Using the firm spatula, loosen the sides of the cookie from the exposed sides of the pan. Leave in the pan until completely cooled.
If necessary, use the firm spatula to make sure the cookie hasn't reattached itself to the pan. Using the overhang of parchment paper, lift the cooled cookie out of the pan.
Cut into 1 to 1 1/2″ squares.
Next time, I might sprinkle these with a teensy bit of kosher salt for that salt-caramel 'thing'. If you try that, let me know!